"Optician near me?" This one's only a click away.
You no longer need to search for a walk-in optician near you. Simply ask our certified online eye care professional a question and get all the help you need without even leaving the house. 
We are proud to introduce you to our new online optician. Our online optician is fully qualified to help with all manner of eye care queries and is very friendly & professional! Our free online optician offers the perfect solution for all your eye care needs, even on weekends when other opticians are closed. You now have instant access to online optical support. It is even available for children's eye care online to answer any questions you have about buying glasses for your little ones. All you have to do is post your question to our optician, along with your contact details, and they will get back to you with an answer as soon as possible!
Another bonus is that you can forget cheap opticians because our online eye care professional offers a brilliant service completely free of charge!
How your online optician  can help:
✅ If you develop symptoms and can't find a solution in our Optical Center, ask the optician! They will be able to provide you with accurate and reliable advice, in real-time.
✅ If you have any queries about contact lenses, our optician is sure to have the answers.
✅ If you experience difficulties with vision, or struggle to see as clearly as normal, panic not! The online optician is here to help.
✅ If you aren't sure how to order glasses online, our optician is here to help. Our optician has plenty of handy tips and will be able to carefully guide you through the process. Alternatively, you can find everything you need to know about buying eyewear online here.
When not to ask the online optician:
❌ For specific medical advice, please consult a doctor
❌ If it is an urgent problem, please see an emergency eye doctor near you or go to the hospital
❌ In need of an online eye exam? We are still working on the technology required to offer a reliable eye doctor test online. So in the meantime, please see an eye doctor.
Quality Eye Care Products from SmartBuyGlasses
Every item of eye care and eyewear sold at SmartBuyGlasses is of the highest quality. We ensure that our frames and lenses are made from the best materials. For contact lenses, this will ensure top-notch visuals, minimal irritation, and maximum hydration. For spectacles, clarity of vision and comfort are our top priorities. 
The material of the glasses lens you choose is incredibly important for this, so you can choose between plastic, polycarbonate, and glass. There are also high index and trivex lens options. To help you decide which is best for you, read our guide here, and if you're still in doubt, don't hesitate to ask our opticians. 
Arguably, the type of contact lens you opt for is even more important. After all, it's actually in your eye! And for this, SmartBuyGlasses does not fail to deliver. We offer a range of high-quality contact lenses made from a variety of materials. However, what you need to know is which one works best for you. 
There are different options, such as daily or monthly contact lenses, which are composed of different technologies to fulfill the wearer's demands. We offer plenty of top tips on finding which is right for you in our articles, such as "Everything you need to know about Silicone Hydrogel Lenses." However, it can also take some trial and error to determine which contact lenses you prefer. For more detailed information on this, talk to our online optician near you here. 
We also offer free lens coatings on all our products. One is anti-reflective, another is anti-scratch, and a third is anti-fog. In addition, there are UV-protection, polarized, and blue light-blocking coatings available. See our guide on lens coatings for more information.
Need an optician to find out what your prescription is? Stop right there! Instead of going through the hassle of finding an optician near you, simply download our Lens Scanner App. This wonderful tool allows you to quickly scan your glasses, find your prescription details, and order your new pair of prescription glasses online. All in 3 simple steps.
However, please note that this service only works if you already have a prescription that you are happy with. This app does not work as an online eye exam.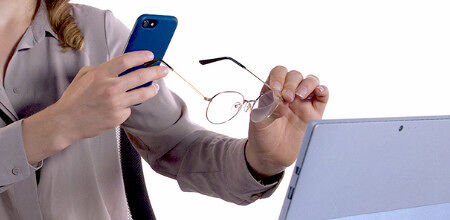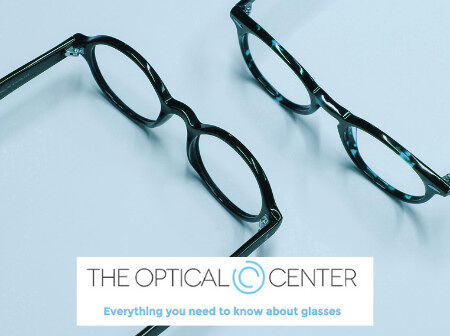 Frequently Asked Questions
To find the answer to your eyecare query as quickly as possible, take a look at our Optical Center articles. The Optical Center offers a plethora of information about all things eyecare. We constantly review the most pressing questions in the eye care world to make sure we have all the answers to your queries. All articles are widely researched and offer accurate advice.
 From computer glasses to astigmatism, from polarized sunglasses to multifocal contact lenses. There are even tips on eye health care exercises to keep your eyes as healthy as possible. Honestly, the Optical Center has it all. Search the articles available to see if your question comes up, and if not, you can also check through the most common questions answered by our online optician. The online optician is so near you; it's like having an optician in your pocket!
If you have an FSA (flexible spending account) or HSA (health savings account) card, you can use your savings when buying with SmartBuyGlasses. You can use the cards to purchase prescription eyeglasses, prescription sunglasses, and prescription contact lenses. Depending on your eligibility and benefits, it can also apply to non-prescription sunglasses. The good news is you can use both cards whether or not you have an insurance plan.

You have two options. Either pay with the card at the checkout: enter your FSA or HSA card information like you normally would with any debit/credit card. Or, if you don't have one of the savings cards, check out using your normal credit card and get reimbursed directly from your FSA/HSA provider. For more information, see our guide to HSA and FSA insurance here.